Category Archives:
Cakes
I stole this from a Gordon Ramsey recipe on a Website, but with the sheer volume of Windfalls at this time of year, it's a fun and tasty recipe to try out!
Makes 12
350g plain flour
2 tsp baking powder
2 tsp ground mixed spice
240g golden caster sugar
3 dessert apples, peeled, cored and finely chopped
3 large eggs, beaten
120ml vegetable oil
100ml milk
150g soft toffees, chopped into small pieces
1 Preheat the oven to 180C/Gas 4 and line a 12-hole muffin tray with paper cases. Sift the flour, baking powder and mixed spice into a large bowl and stir in the sugar. Make a well in the dry ingredients.
2 Add the chopped apples, eggs, oil and milk in the middle of the well, and fold the mixture together with a large metal spoon, using as few strokes as possible. Don't worry if the mixture is lumpy, the trick behind the lightest muffins is not to overwork the batter.
3 Half-fill the paper cases with the mixture, then sprinkle over the chopped toffee pieces. Cover the toffee with the remaining batter, then bake for 25-30 minutes or until the muffins are well risen and golden.
This is a great comfort food!  and is quick and easy to boot, even if it CAN be a little messy!  🙂
I like to use a plain Brioche loaf, but that's because I'm not keen on the Sultana's etc in it.
Mix 3-4 eggs, a splash of milk or cream, a dash of Vanilla Essence and a tablespoon of Caster sugar for each egg you use, and whisk vigorously!   Pour in to a flat receptacle with sides deep enough to let you dip in!
Heat a frying pan with a knob of butter (unsalted is best).
Take a roughly 1.5cm slice of the Brioche loaf, and dip it in the Egg Mixture on both sides, then using a fish slice suitable for use in a hot frying pan, transfer the soggy slice in to the frying pan, cooking gently so that it's light brown on both sides.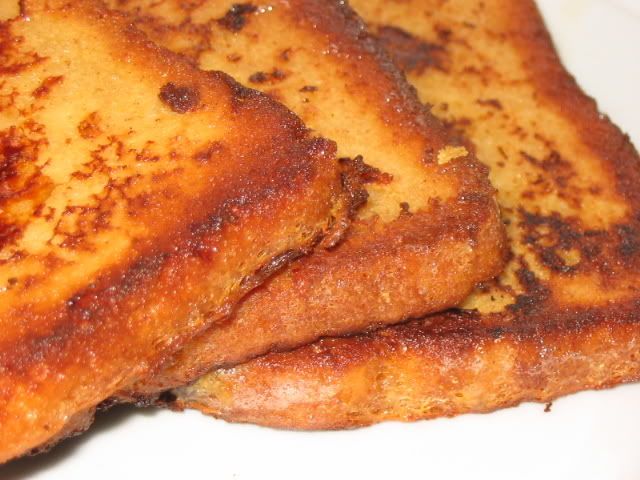 As you serve it should look something like the above, with a nice soggy centre that tastes somewhat like custard and a lightly caremelised outside!
Enjoy!!!